Via Ferrata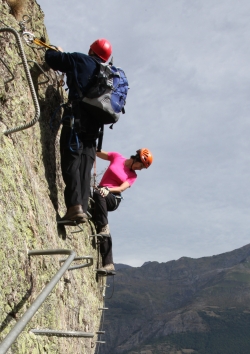 Via Ferrata de Coumély, Dolomites
A Via Ferrata (meaning Iron Road in Italian) is a heavily protected climbing route consisting of a series of iron rungs, cables, ladders, and bridges that can be used to scale or traverse near vertical crags. They are found mainly in the Dolomites and the Austrian Alps and there are now over 1000 in existence throughout the world. Two have recently been built in England: in the Lake District at Honister Slate Mine and in the Yorkshire Dales at How Stean Gorge.
They originated in Italy with the earlier ones having been built to facilitate the movement of troops and equipment in the Dolomites during the First World War, but they are now being built for recreational purposes and are increasingly popular with both climbers and people who do not normally rock climb but who want a "safe" adventure experience on a rock face. There is no need for protection with ropes and belays. The climber is secured to a metal cable via a short lanyard, which will limit any fall.
The Club has climbed a number of Via Ferrata routes during the trips it has made to the Dolomites.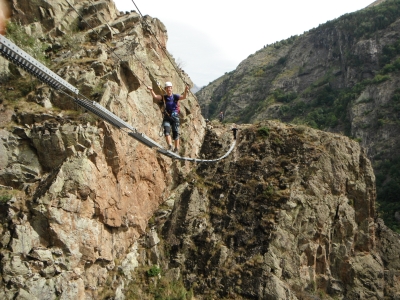 Via Ferrata de Coumély, Dolomites
Published on