Contact / Join us
If you wish to contact the BBMC, please complete the contact form on our Contact us page, making sure you compete the compulsory fields marked with a *. Please enter N/A, if inapplicable.
If you want to join the Club, please complete the membership form on our Join us page.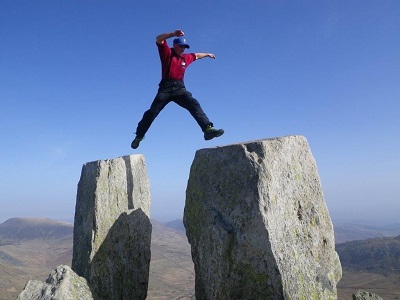 A BBMC leader gaining the "Freedom of Tryfan" by making the "Leap of Faith" between Adam and Eve on the summit of Tryfan, Snowdonia
We are sorry that we seem to have had a few problems with these emails generated by these forms, but they are now working again, although they do not always generate a copy, when requested. If you have sent us a message via this form and have not received a reply within a few days, please try again or contact us again via bbmc@boys-brigade.org.uk.
Published on