Keswick ConVenture
Although, not strictly a BBMC event, Keswick ConVenture has sprung from the experience of a few BBMC members staying at The Barn (near Keswick) during previous Keswick Convention weeks, who enjoyed mountain-based activities during the day and the worship and teaching at the Convention during the evening. They felt that this combination of adventure and spiritual activities would be of benefit to others in the Brigade.
These BBMC leaders together with 2nd Reading BB ran a pilot camp last year, called BB Xtreme, at Grange in Borrowdale, with the help of two BB Canoe Club coaches, to prove the whole concept. We are grateful to the Seniors and leaders of 2nd Reading who acted as our guinea pigs.
Last year, we were able to offer kayaking, rock climbing, abseiling, fell walking and scrambling as activities. Photos of last year's activities can be viewed in the BBMC's BB Xtreme album on Facebook. This camp was highly successful and we want to repeat it this year, over a slightly longer period (Friday 20 July to Wednesday 25 July 2018) at a different campsite and hopefully with more activities. This year we will be camping on the Braithwaite Institure's playing field.
We are grateful for the BBMC allowing us to use its website to publicise Keswick ConVenture. If you have come to this page via a direct link to Keswick ConVenture, please take a look at the rest of the BBMC website and particularly the BBMC's events page to see all the events that the BBMC is running this year.
More information about Keswick ConVenture can be obtained from our Publicity Leaflet and for more information about the Keswick Convention, its long association with the Boys' Brigade and to listen to the new version of "We have an Anchor" that we enjoyed singing at last year's Convention, click here.
If you are willing to volunteer to help at Keswick ConVenture or if you want to register an interest in participating either on your own or with others, please complete the contact form with the subject "ConVenture". Please also encourage other leaders, Seniors, or anyone who has recently left the BB, to come.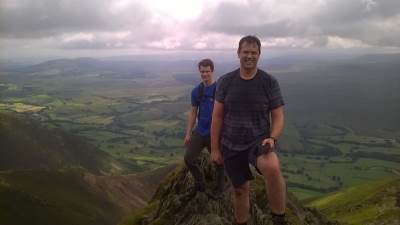 A father and his son, from 2nd Reading, after a Grade 1 scramble up Hall's Fell on Blencathra at last year's event
Published on