Join us
The Club is currently looking to increase its membership base and aims to get more people (especially Young People) attending meets and taking part in the Club's activities. This will enhance the way we serve the Brigade and perhaps introduce some new members to the great outdoors and possibly even lead to a life-long passion for mountaineering.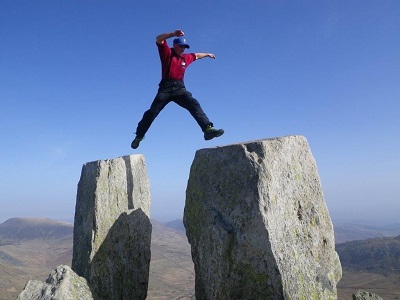 A BBMC leader gaining the "Freedom of Tryfan" by making the "Leap of Faith" between Adam and Eve on the summit of Tryfan, Snowdonia
Membership Forms in PDF format can be downloaded by clicking on the links below.
Full Adult Membership Form for currently registered BB leaders who will have undergone DBS checks. Fee - £10 per annum.
Company/Battalion Membership Form for any enrolled Boys' Brigade Company or Battalion. This membership will allow all young people aged 11-18 and all registered leaders in the Company or Battalion to participate in BBMC activities without having to pay individual membership fees. Fee - £25 for companies and £35 for battalions per annum.
Forms should be posted to the Membership Secretary with a cheque for the correct amount payable to BB Moutaineering Club. The Membership Secretary's name and address is Neville Smith, 2 Sutherland Court, RUNCORN, Cheshire, WA7 1BW.
If you just wish to be added to our mailing list to be notified of forthcoming events, please complete the form located here.
Published on